As soon as spring makes itself known, motorcyclists take their spurs out of their garages. Some go on a tour at the first opportunity, while others spend time waiting for the warmer days, getting their equipment ready for the start of the season. Often it turns out that it's time to change the tires, but which one to choose? In order to help you find an answer to this age-old question, we have collected the models that last year received the highest scores from customers of different online stores. Thus was created a rating of tires for motorcycles, which should be considered for the season of 2022.
The scores and reviews exhibited by motorcyclists over the past dozen months were taken into account. The order is extremely simple: first a motorcycle tire purchase is made, and then the owners shared their impressions, that is, how they rate the tire. Their experience, often far from what one reads about in tests conducted under controlled conditions, can be a great guide for people choosing new wheels. These opinions are supported by hundreds and sometimes thousands of miles driven.
Various types of motorcycle tires are included in the list. The notes given for each model are the average of the ratings given during the period (since January 2021). The maximum possible score is 6.0.
The following models stand out in the 2022 motorcycle tires ranking:
Pirelli Angel GT II;
Michelin PILOT POWER 2CT;
Dunlop D404;
Metzeler Perfect ME 77;
Pirelli Scorpion Trail II;
Michelin City Grip 2.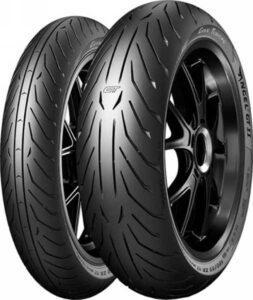 The best tire for touring motorcycles - Pirelli Angel GT II
The popularity of touring bikes should come as no surprise. They allow you to comfortably cover many kilometers, mostly on asphalt surfaces, as well as to explore light terrain. Due to the fact that they are often part of long trips, wheels should have a low failure rate. Repairing a motorcycle tire on the road is not a dream, so manufacturers face a real challenge. That being said, the most popular are sets of the following sizes, such as the 90/80-17 and 110/80-17 for the Honda CBR 125, and the 120/70 ZR17 and 190/55 ZR17 for the BMW K 1600 GT. In the touring motorcycle tire group, the highest average rating (5.6 out of 6) was given to the model with a sporty flavor, the Pirelli Angel GT II. It uses modern solutions thanks to which driving is not only safe, but also a lot of fun. Diablo Wet rubber compound with high silica content, optimized tread and a special structure increase the stability of the bike during dynamic maneuvers on dry and wet surfaces. The wheels wear evenly, ensuring full performance throughout the entire period of use.
Michelin PILOT POWER 2CT - the best on-highway sports tire
In this ranking we are dealing with bikes that provide a high level of riding comfort while having enough power. Wheels work well on long routes, where you want to go a little crazy, caring not only about the satisfaction of the rider, but above all about his safety. It is impossible to hide it, a huge role here is played by moto tires, which often show themselves well on the streets and on the tracks. Unlike tires for the sports segment, these solutions have to cope with really diverse conditions. Aggressive drivers most often consider the following sets: 120/70 ZR17 and 180/55 ZR17 for the Yamaha MT07 or Honda CBR 600, and 90/80-17 and 110/80-17 for the smaller-capacity Honda CBR 125. Which model received the highest rating? It's the Michelin PILOT POWER 2CT, which received a rating of 5.5. The French manufacturer designed the rubber for precise maneuvering, efficient acceleration and braking. The list is long, but as you can see, it's doable. The tires use Two Compoud technology, i.e. the optimal distribution of compounds with different properties, improving, for example, traction and stability in total. Synthetic component technology, on the other hand, is responsible for the fast heat, followed by the performance available to you.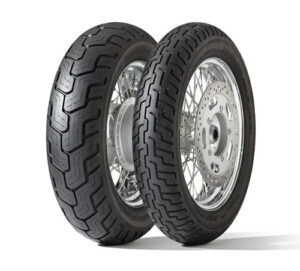 Dunlop D404 - the #1 choice for choppers
Vehicles straight out of "Easy Rider" require that the motorcycle tires installed on them be durable and have a lifespan of thousands of miles. After all, the idea is not just to make the motorcycle look impressive, but also to serve well when you go on your next trip. Characteristically, chopper motorcycle tires are wide, and the difference between the front and rear wheels is often quite large because of the asymmetrical axles. Hence the approximate sets are as follows: 140/75 R17 and 200/55 R17 (Harley Davidson FLSTFBS FAT BOY S) or 120/70 ZR18 and 200/50 ZR17 (Yamaha XV 1700 Wariorr). This time buyers chose the Dunlop D404 as the best buy with an average score of 5.5. Here we are dealing with tires that handle high loads well and perform well over long distances. Thanks to the clear grooves, it is as if it sticks to the road, even in the rain, reducing the risk of skidding caused by aquaplaning. The rubber compound used for production wears slowly and evenly, so the performance remains as good as ever until the last kilometer. An important aspect is also quite quiet operation, which can be especially appreciated during long journeys. Interestingly, the Dunlop brand also offers stylish motorcycle tires with white sides (D404 with the acronym WW).
Metzeler Perfect ME 77 for classic motorcycle
Retro-inspired solutions impress with their unique design and distinctive engine sound, striking the sensitive strings of motorcycle enthusiasts. They often come from the 1960s or 1970s, a trace of a bygone era and slowly forgotten solutions. This is evidenced by rubber that used to be manufactured differently than it is today. However, this does not mean that the DOT of a motorcycle tire has to go back to the time the iron horse itself was manufactured. Although the supply of this type of model is quite limited, which extends throughout the market, still managed to choose the best. So if you have a good classic wintering in your garage, consider the Metzeler Perfect ME 77. It perfectly combines modern technology used in design and manufacturing with a classic look. After all, classic tires need to meet not only certain specifications, but also appearance!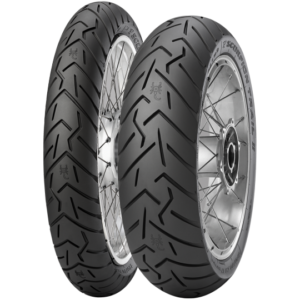 Pirelli Scorpion Trail II - for enduro and cross-country fans
Off-road enthusiasts choose sports cross bikes or slightly more versatile, designed for street riding enduros. In both cases, the machines have to cope with dirt surfaces, gravel or mud, which allows them to overcome wild terrain. Undoubtedly, a big role in this is played by rubber, which is responsible for traction. Its characteristics should always meet individual needs. As for sizes, some of the most popular sets are: 90/90-21 and 140/80-18, mounted, including on KTM ENDURO 690 and Husqvarna TE 300 motorcycles. According to buyers, the Pirelli Scorpion Trail II ranks first in this category. There are many factors that have underpinned the success of a good result. These include the profile and structure, which ensures stable and dynamic driving under heavy load. Thanks to clear grooves in the tread, water is effectively drained from under the wheels and the machinery can show its full performance even on wet surfaces.
Michelin City Grip 2 - the best motorcycle tire for scooters
Small maneuverable scooters are ideal for the city. They are an alternative to cars, buses and streetcars and allow you to move quickly through narrow streets. At the same time they are easily accessible and relatively cheap, so their popularity seems a natural progression of things. Due to the fact that they are used every day on asphalt and not always smooth city roads, scooter tires need to be ready for anything, including sudden changes in the weather. Because of the wide range of scooters on the market, there is quite a big gap between the popular sizes of motorcycle tires. For example, scooters with a 50 cm engine work well with sets such as: 100/80-17 and 130/70-17 (Aprilia SX 50), 120/70-12 and 130/70-12 (Peugeot Jet Force 50) or 110/70-11 and 120/70-10 (Vespa S50 Sport). For a 125cc engine, it might look like 120/70-15 and 140/70-14 (Yamaha X-Max), and 90/90-14 and 100/90-14 (Honda PCX 125). The best rubber for the scooter was Michelin City Grip 2 with a 5.1 average. Customers appreciated the high quality worthy of a premium product. These are versatile tires from the French manufacturer that clings to both dry and wet roads. The optimized rubber compound with silica, the tread with clear grooves and Progressive Sipe technology provide excellent traction on straight stretches and in corners.